The market financing of small and medium-sized enterprises in France
In 2007, before the crisis, the financing of French corporations through financial markets amounted to €5 billion whereas their financing through bank loans reached €40 billion. In 2009, the financing through bank loans stands at €35 billion (after a record €60 billion in 2008) but the financing through financial markets has strongly increased from €5 billion at the end of 2008 to €70 billion in 2009 (1).


Therefore, it is clear that French corporations responded to the banks' credit crunch by raising capital on financial markets. But the access to market financing is much easier for large companies than for small and medium-sized enterprises (SME). The difficulties the SME are facing are so important that it led the French Government to nominate a mediator for credit. In one year, more than 16 000 SME have been helped by this mediator and his staff.


Since financial markets are supposed to contribute to the financing of the economy, we can ask whether and how they can enable SME to finance their activity, particularly when banks are reluctant to do it. In order to examine the question of the SME's access to financial markets, we will more particularly focus on the biotechnologies' sector, to the extent that it is seen as a potentially prosperous sector in the future.
The limited access of SMEs to financial markets
In 2009, 400 French SME employing 50 to 250 persons were quoted. It represents only 0,6% of all SME of this category; 280 SME were quoted on the free market and 114 SME were quoted on Alternext, which is a special organized market created in 2005 and capitalizing €3,5 billion. On Alternext, several conditions are simplified to facilitate the access on financial markets for SME. For example, the period on which past accounts are analyzed is limited to two years (instead of three), so that emerging companies can be quoted more rapidly than on free markets. The purpose of this organized market is to make SME's assets more liquid and consequently more attractive.
The attractiveness of Alternext for investors is also strengthened by the fact that if a SME is sold, the new owner is not allowed to buy the shares of minority shareholders at a lower price than the price they have paid to buy these shares. Moreover, transparency conditions are guaranteed and a company can be punished if it tries to hide strategic information. Transparency is also promoted by the creation of the "Small and Midcap Expert" label given to particular financial intermediaries which employ specialists of SME asset management. In addition, each SME that want to be quoted on Alternext has to find a "listing sponsor" who helps the company to respect all mandatory regulation rules. Finally, thanks to the "Alternext All Share" index, fluctuations are more transparent and Alternext has become easier to follow and to understand in order to reinforce investors' confidence.
Nevertheless, the gap still remains very important between Alternext and AIM (Alternative Investment Market), which is based in London. In terms of capitalization as in terms of companies, Alternext is far behind its British counterpart as shows the following chart.
Comparison between Alternext and AIM in November 2007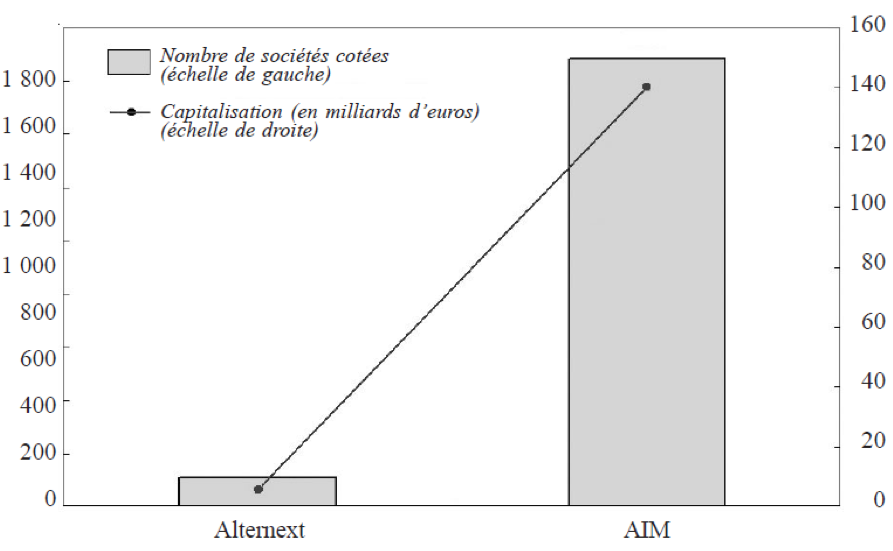 Sources: Alternext and AIM (quoted by the Banque de France).
The case of the biotechnologies' sector
The case of the biotechnology sector is very telling as a n example of how limited is the access of French SME to market financing. Contrary to the French situation, a lot of American companies working in the field of biotechnologies have raised capital on financial markets. In 2007, they were 354 in the United States but 164 in Europe of which only 11 were French. In terms of capital asset, it represents respectively, $431 billion, $133 billion and only 4 $billion for the French biotechnology SME.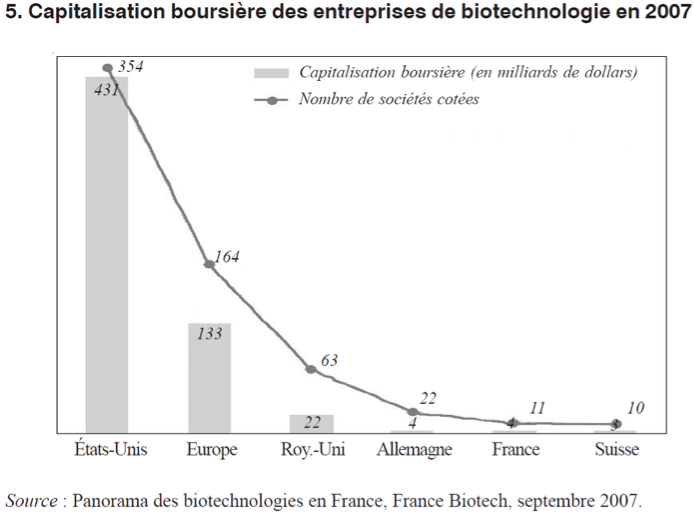 This gap can partly be explained by the fact that some American investment funds, particularly pension funds, have developed their expertise and their skill in the field of biotechnology in order to invest for the long term. The lack of expertise is more important in France, so that funds and other investors are more reluctant to invest in this sector that requires patience and optimism. It's true that in this sector, emerging companies seldom pay high dividends during the first years, so that investments can become profitable only in the long run. Finally the case of the Internet and new technologies' bubble that burst in the early 2000 may have weakened investor's confidence in emerging sectors.

Public attempts to strengthen the SME's access to financial markets
In order to support the SME's access to financial markets, the French Government has recently adopted several measures to double the number of companies quoted on Alternext in the next 18 months. In order to reach this target, almost four different means will be used. The first one consists in adopting new laws and market rules adapted to SME at national level but also at the European one. But these particular rules shouldn't endanger investor's confidence, which is why the Government decided to create an Observatory of SME's financial health. Thirdly, public financial institutions like OSEO will hedge a part of the risk taken by investors by issuing bonds backed on several SME's assets. Public institutions will also increase their investment funds in SME. Finally, Euronext will develop new information services to facilitate the introduction of SME on Alternext.
Finally, a report by the Conseil d'Analyse Economique (CAE) highlights the problem of fragmentation and recommends the creation of a European organized market for SME. It also stresses the possibility to use household's saving schemes. According to the CAE, the promotion of Alternext is probably necessary and useful but this shouldn't delay the integration of European markets.
Conclusion
To sum up, it seems that facilitating French SME's access to financial markets requires four major conditions:
Whether these conditions can be fulfilled at the national or at the European level is not only a financial question but also a political one.
Annexe
Comparative Evolution of the CAC 40 and the Alternext all share index from 2006 to 2009:
A strong correlation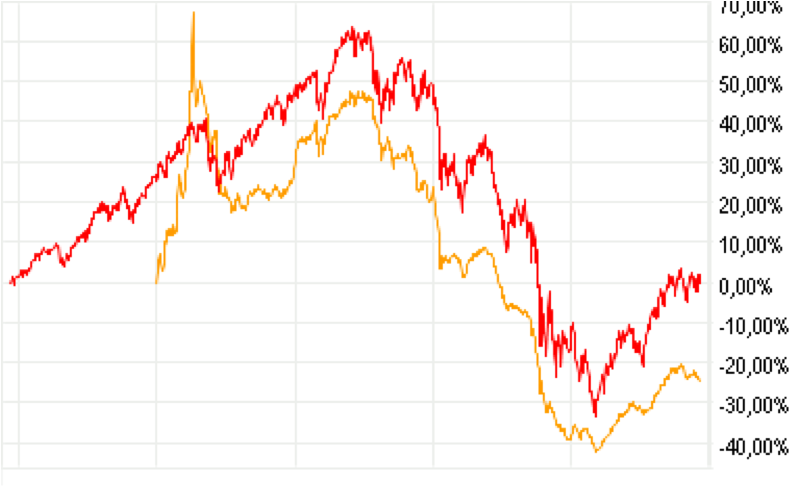 Source: http://bourse.e24.fr/Details.aspx?id=360200703
Sources
Grégoire CHERTOK Grégoire, Pierre-Allain de MALLERAY, Philippe POULETTY. Le financement des PME. Paris : La documentation française, Rapport du Conseil d'analyse économique (CAE), 2009, 160 p.
http://www.economie.gouv.fr/discours-presse/discours-communiques_finances.php?type=communique&id=3490&rub=1
http://www.lesechos.fr/pme/gestion/300381927-15-mesures-pour-faciliter-l-acces-des-pme-aux-marches-financiers.htm
(1) Source Bank of France, quoted by F.-X. Chauchat.